Oriental Wood: Looking at the Commercial Vehicle Joint Venture "Bride" from Beijing Auto Show
In the past few days, if you walk across the west gate of the Tianyi Exhibition Hall in Beijing and look at the display of a large commercial vehicle company in the open air, there is an estimate of the feeling of "Chinese and foreign partners working together to pair up": The liberation of FAW With the general light truck "complementary", Futian and Daimler "partnership", SAIC and Iveco "even Taiwan", Guangzhou Automobile and Hino "with" Dongfeng and Volvo "close" ... ...
Without adding the "pairs" of China National Heavy Duty Trucks and German Mann, who have not participated in the exhibition, this joint venture photo map will be sufficient to fill out a full-fledged joint venture "Ukiyoe" new edition. In China, 90% of commercial vehicles (including trucks and passenger cars) are owned by domestic brands, among which the truck industry has a large number of well-known brands such as Liberation, Dongfeng, China National Heavy Duty Truck, Foton, Shaanxi Auto, and Hualing. There are several world-class companies such as Yutong, Xiamen Golden Dragon, Xiamen Golden Trip, and Jinbei Coach. Who would have thought that in the Chinese commercial vehicle enterprises with such a monopolistic competitive advantage, in the context of the world's largest auto market, when there was no joint venture in a poor day but it was better than ever, why did they appear collectively? Attached to the wood" mentality? In the era of reform and opening up, how should we view the new round of joint ventures?
What the author is worried about is not normal opening and joint ventures, but an alienation joint venture with the main characteristics of "only introducing non-innovation, introducing it backwards, and then introducing it again".
Some people say that the source of joint venture power is self-developed and that the other party is advanced, and that a dependency-based joint venture that was introduced afterwards is reasonable at a certain stage; for example, the joint venture right includes the right to be introduced, and the tolerance of the alienation joint venture is actually a joint venture. For example, in the fair market, self-determination will eventually develop by itself. To protect market freedom, it is best to pursue non-interventionism in joint ventures and let autonomy grow in fair competition. Clouds and clouds.
I feel that similar arguments are plausible because the normal joint venture is different from the alienation joint venture. What will be able to nurture the spirit of self-reliance if it is introduced backwards and then re-introduced? If a company publicizes its joint venture rights, can it abandon its own responsibility? Because of encouraging market competition, can we rely on foreign technology to make quick money instead of nurturing and expanding our own brands? In the case of obvious inferior skills, can independent brands compete fairly? The answer is clearly negative. From the aftermath of more than 20 years of joint venture car business car companies, no one denied the benefits of normal joint ventures, and at the same time, I am afraid that no one denied that joint ventures, especially alienation joint ventures have a negative effect in the long term, especially its ability to soften autonomy. Erosion.
In this sense, no matter what perspectives are upheld or from what perspective, there should be a kind of bottom line values ​​and basic non-objective views on the joint ventures that take advantage of the various forms of joint ventures or joint ventures that belong to them. No enterprise can, at any time, use its joint venture as an excuse to allow its self-development to shrink itself. It cannot be ignored for the sake of technological upgrading. It only ignores the immediate future and changes the joint venture into a "hogbuster."
In the era of building a socialist market economy, what kind of joint ventures "does not affect autonomy" is actually an irresponsible attitude that deceives itself; it is a joint venture, and it is a misunderstanding of policy. Although, as an economic activity, there are many advantages for a joint venture, we must abandon the short-cutting and cheap thinking and have a solid work style for development. This tests the mature rationality of China's auto industry policy management and measures the pace of independent development of Chinese auto entrepreneurs' development.
As far as government departments are concerned, there are ways to stop alienation joint ventures that may endanger economic order and industrial safety. At the same time, we must also study the "emotions" of companies behind joint ventures, face the market soil created by joint ventures, use more open and transparent measures to prevent joint venture alienation, and adopt more timely and proactive policies to meet the needs of independent development of enterprises, and continue to improve themselves. Credibility and competitive impetus.
For entrepreneurs, the boundaries between joint ventures and autonomy should be clearly defined, and the essential differences between joint ventures and alienation joint ventures should be understood. The practice of the development of multinational corporations in China and foreign countries has proven that regardless of how they cooperate, competitors are rivals, and the elimination of competition will not be attenuated due to joint ventures and cooperation, not to mention adding kindness. Joint ventures and cooperation are the rights of enterprises, and the alienation joint ventures that are currently drunk with wine are subjective and negative.
The author is willing to believe that a commercial vehicle company that has an absolute share in the domestic market has the main purpose of this round of joint ventures to upgrade technology. However, there are now conditional joint ventures, and it is also conditional to slip into alienation joint ventures. Regarding the future of commercial vehicles in China, be cautious.
Product Name: Electrical Stainless Steel Tube Belt Polisher
1. This machine make it incredibly fast and easy to finish closed or open tube forms, such as railings, etc.
2. With different belts, you can rough sand and fine sand to remove surface imperfections,
blend,create surface effects like stain or brush finished. All the way to mirror polishing.
3. The arms allow the belt to wrap around the surface to sontact 180 degrees of the tube at a time.
4. There's no easier or faster way to deal with tube constructions.
5. Humanity designed handle
6. The powerful Marathon motor supply inexhaustible power
7. VTC full-ware electronic speed control, makes the machine maintain stable high speed under a heavy load
8. Attached the Ground Fault Circuit Interrupter
9. Variable speed, constant power
10.Extermal carbon brush, easier to replace
11.Precisely guiding of belt, especially be applied for evenly polishing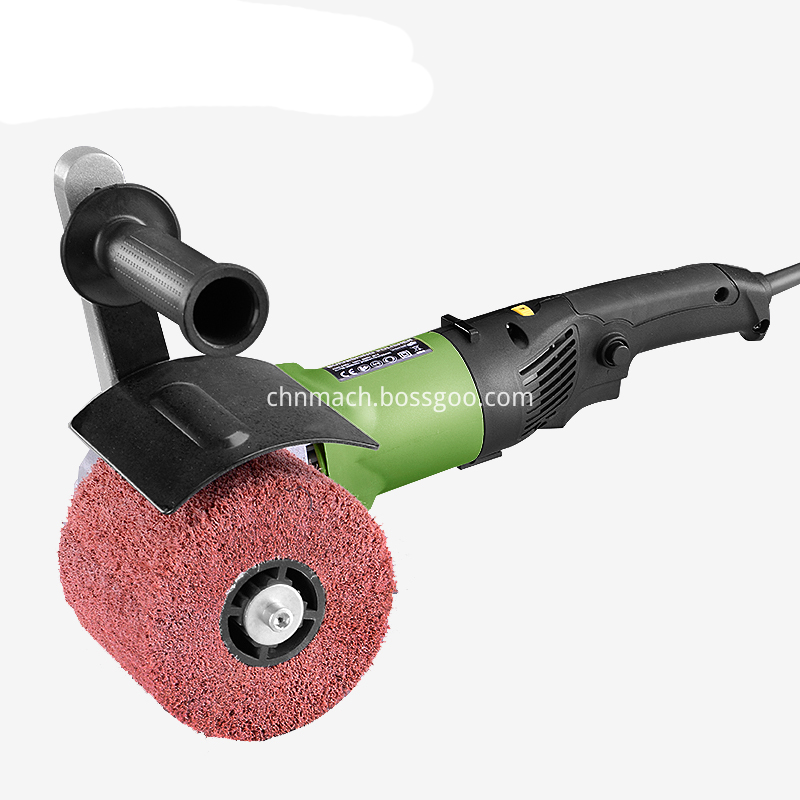 Stainless Steel Polishing Machine
Stainless Steel Polishing Machine,Portable Stainless Steel Polishing Machine,Stainless Steel Easy Polishing Machine,Stainless Steel Automatic Polishing Machine
Shandong Hightop Machinery Co,.Ltd , http://www.hightopmachinery.com