The 10th Anniversary of the Opening of the New Beijing Plant of BorgWarner China
On September 28th, 2011, more than 130 SUV technical experts from Great Wall, Beijing Automotive, Nanjing Iveco, Chery, Zhengzhou Nissan, GAC, SAIC, FAW, ZTE, Jianghuai, Jiangling and other domestic OEMs gathered together to share BorgWarner's new Beijing. Factory Area - China's largest and most modern manufacturer of specialized transmissions covering an area of ​​30,000 square meters, 175 employees, and an annual production capacity of 250,000 sets, witnessed the "Borg Warner Beijing New Factory Opening Ceremony and the 10th Anniversary Celebration". An exciting moment.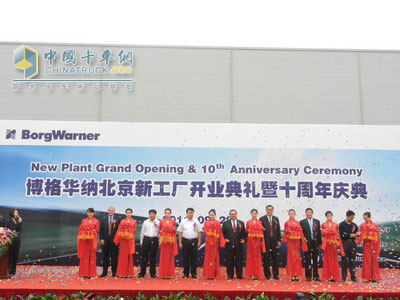 The opening ceremony of the Borg Warner Beijing New Factory and the 10th Anniversary Celebration of the ribbon-cutting ceremony
With the Statement by the President of the Board and Mr. Borg Warner CEO Mr. Tim Manganello warm, Borg Warner Beijing new factory opening ceremony and the tenth anniversary celebration kicked off. Mr. Tim Manganello proudly announced: "With ten years of unremitting efforts, Beijing BorgWarner has grown to become the largest manufacturer of splitters in the Chinese market. This is a unique approach of BorgWarner - leading technology, quality, Another example of the success of production and safety in China. BorgWarner will uphold the concept of cooperation with customers, will introduce the most advanced technology into China, and grow with Chinese customers in the future."
Zhao Guoqing, vice president of Great Wall Motors, praised BorgWarner's efforts in the four-wheel drive technology advancement in China in the past 10 years. He pointed out: "BorgWarner has left us with advanced technology, reliable quality and excellent service. I was deeply impressed that the sincere cooperation between Great Wall Motors and BorgWarner began with the splitter project and later extended to a full range of products. It can be said that our joint efforts have created Great Wall Motors China SUV No. 1 brand success. We and BorgWarner adhere to the development concept of sincere partners and win-win cooperation, steadily move ahead in the fierce market competition, and the market for four-wheel drive products has grown rapidly, and technology has been synchronized with the global four-wheel drive technology."
Mr. Tan Yuesheng, President of BorgWarner China, recalled the past ten years between Beijing BorgWarner and China's independent SUV: "Beijing BorgWarner was established in 2001 and has experienced difficulties and challenges along the way. With pride and joy, our products have evolved from a single manual transfer case to full coverage of rear drive and front drive based four-wheel drive systems, as well as electronically driven shift bridges for electric vehicles, and for automatic transmissions. We have more than ten kinds of products such as solenoid valves; our customers have grown to more than 30 domestic OEMs; our employees have grown from 14 to the current 170. Our sales have increased by more than 100 times in 10 years and have become The largest manufacturer of splitters in the country. All these achievements are inseparable from the trust of customers and the selfless dedication of BorgWarner employees."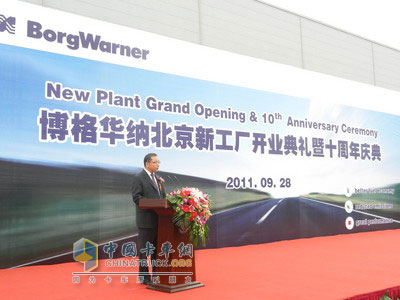 Mr. Tan Yuesheng, President of BorgWarner China, addressed the opening ceremony
In 2001, BorgWarner introduced the first electric transfer case to China. As China's SUV market has just started and its market prospects are uncertain, BorgWarner has brought advanced AWD technology to Chinese SUV companies and designed and developed localized for the needs of China's own SUV models. In the process of cooperating with the self-owned brand SUV designers in the four-wheel drive project, the dedicated and rapid progress of young Chinese SUV designers left a deep impression on BorgWarner's foreign technical experts.
In 2005, BorgWarner introduced the four-wheel drive management technology based on front-wheel drive into China, realizing the four-wheel drive solution of the urban SUV based on the traditional car chassis.
In 2010, Great Wall's new 2.0-liter Haval H5 SUV with the BorgWarner TOD® transfer case was the first four-wheel-drive vehicle based on the rear drive in its own-brand SUV. When the Haval H5 SUV is in motion, the ECU of the TOD® actuator automatically collects real-time operating data from the vehicle and dynamically assigns the torque to the front and rear axles according to the optimal gear ratio for two-wheel drive and four-wheel drive. Automatic switching between drives without the intervention of the driver. The Haval H5 SUV equipped with a BorgWarner TOD® splitter features superior traction and handling and can be easily handled even on rough roads such as off-road and ice and snow.
In the future, BorgWarner will continue to introduce the latest four-wheel drive technology into China. Dr. Li Xiaoqiu, general manager of Beijing BorgWarner, said: "We will continue to adhere to the strategy of growing together with our customers and continue to introduce the latest and best BorgWarner technologies. China supports the development of China's auto industry. We will continue to maintain the status of China's four-wheel drive technology leader and vigorously promote the expansion of BorgWarner's solenoid valves, electronic-driven transaxle, and intelligent torque manager business in China."
Glass Microfiber Filter Media For Air ASHRAE FILTER :F6-F9
Ashrae Fiberglass Filter Media are comprised primarily of glass microfibers and are produced with a wet laid process similar to those used for the production of paper. It's an ideal raw material to produce air filters. It's efficiency ranges from F6-F9 with low pressure drop and good strength.
Fiberglass F9 Air Filter Paper,Fiberglass F8 Air Filter Paper,Fiberglass F7 Air Filter Paper,Fiberglass F6 Air Filter Paper,
ASHRAE :
Grade: F9 F8 F7 F6
Efficiency(≥%): 95 90 80 60
Basic Weight (+-5g/m2) : 70 70 70 70
Thickness (±0.02mm@100kpa ) : 0.34 0.34 0.34 0.33
Air Resistance Pa @5.3cm/s: 88 35 33 20
Tensile Strength 1200 1200 1200 1200
Stiffness: 1200 1200 1200 1200
ASHRAE grades (F6-F9): ordinary air-conditioning system, gas turbine air intake, air compressor, etc.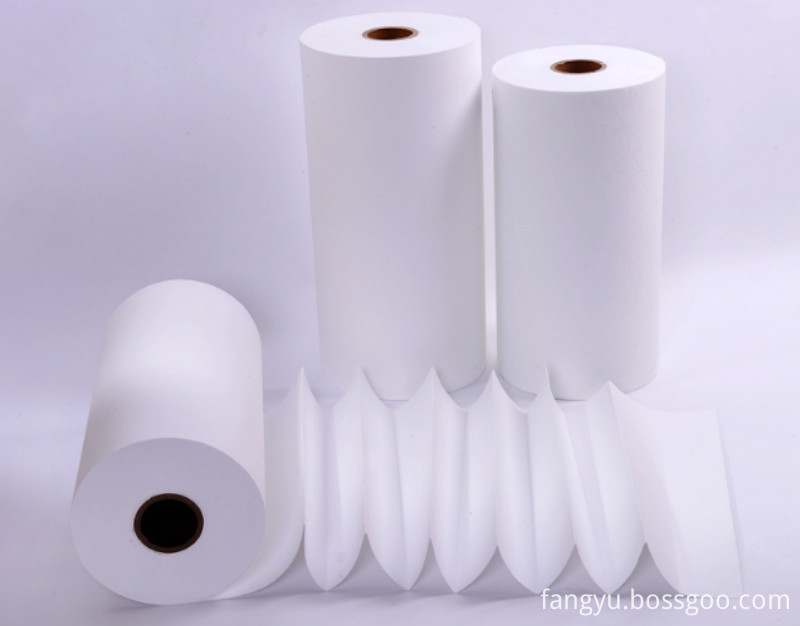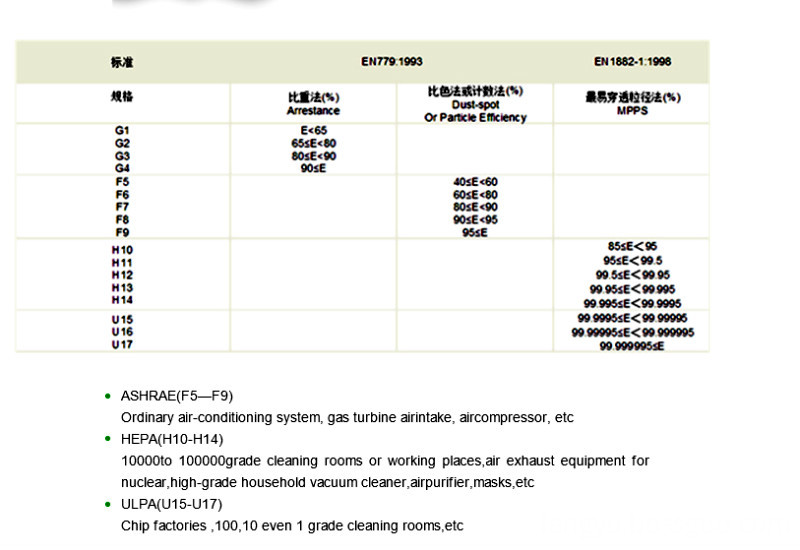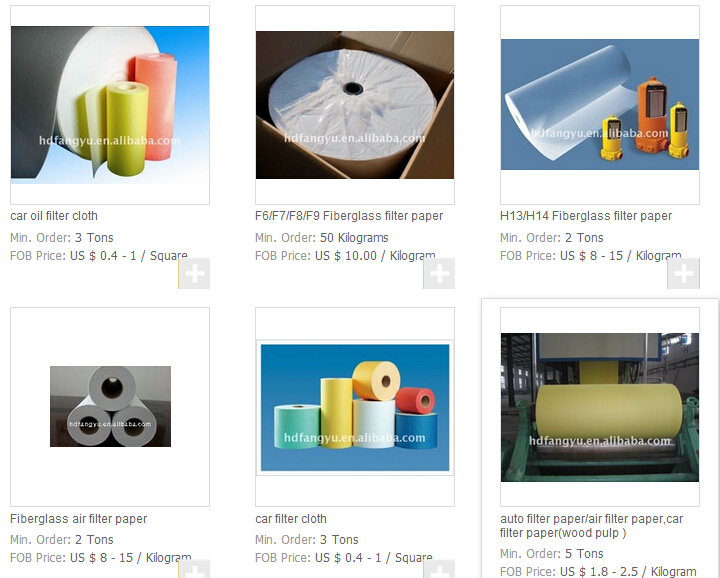 Glass Microfiber Filter Paper of ASHRAE Grade(F6-F9)
Micro Fiberglass Filter Paper,Fiberglass F8 Air Filter Paper,Ashrae Fiberglass Filter Media,F6 Glass Microfiber Filter Paper
Hebei Fangyu Trade Co., Ltd. , http://www.filtersmaterial.com